Don't miss out on Homecoming Week fun at LHS!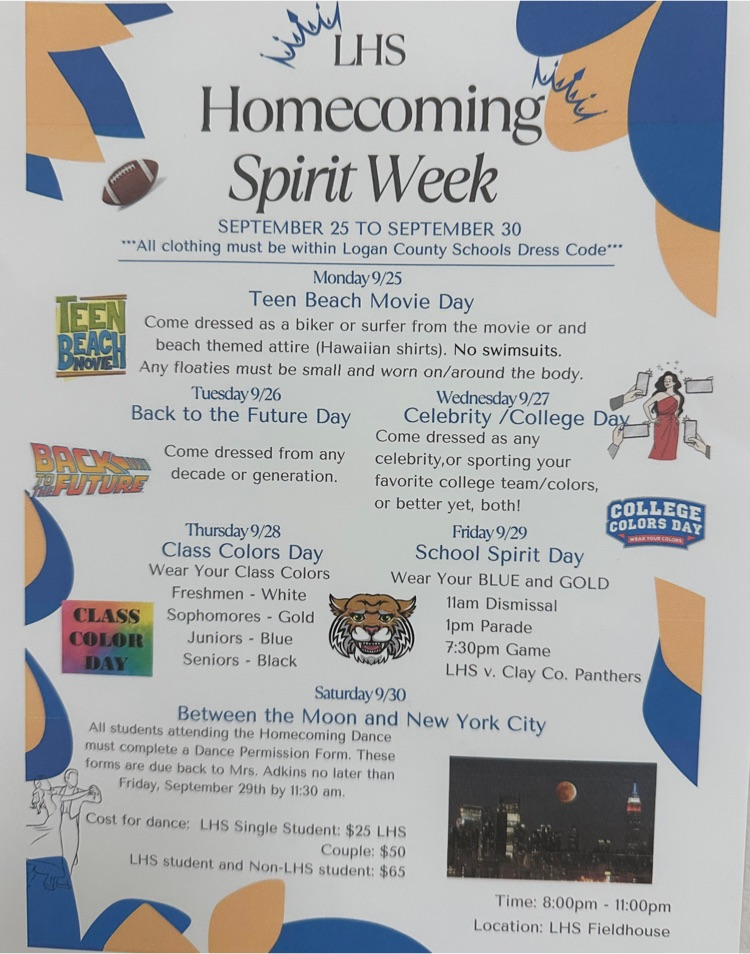 Tomorrow is Back to the Future Day- Come dressed from any decade or generation.
Monday begins Spirit Week at LHS and Monday is Teen Beach Movie Day attire and show your school spirit tomorrow for school.
11 AM Release for LMS & LHS 12 PM Release for LES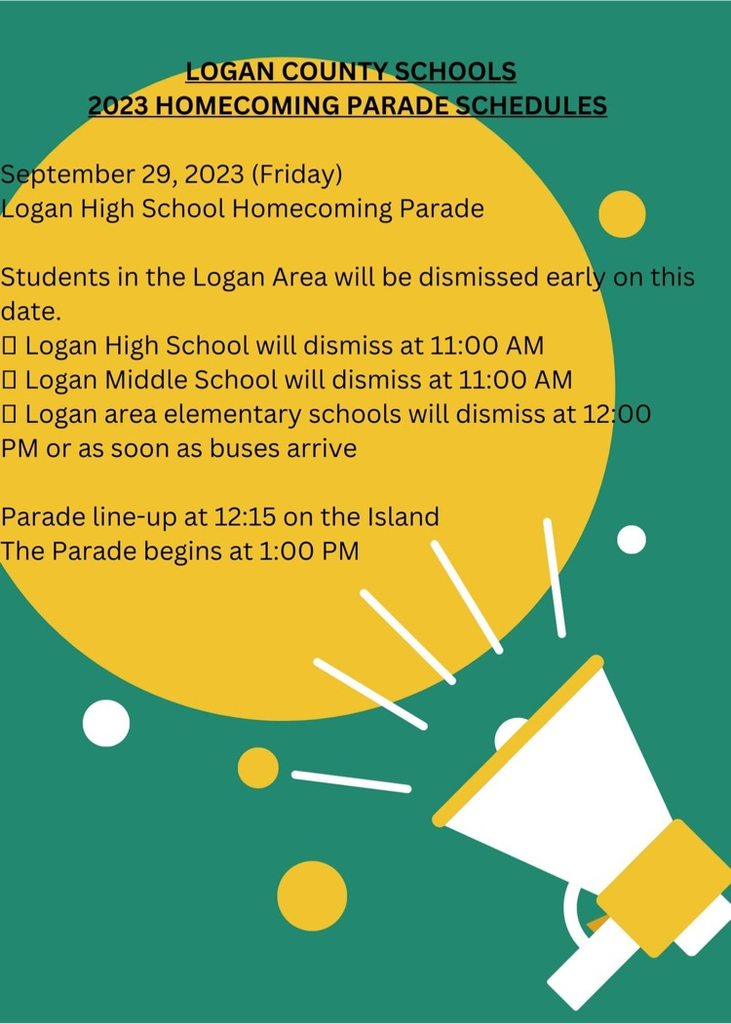 This is a reminder that Logan High School students are on a 2-hour delay schedule today. Logan High School will begin at 9:05 AM for a 2 Hour Delay schedule. ECA students will work remotely on Wednesday from LHS. Morning CTE students will attend RRWCTC.
Parents and Guardians: All 9th Grade students at LHS who attended LMS last year will bring home test scores today. Also, all LHS students will receive a progress report today.
Next week we are having Battle of the classes, and the class shirt orders must be made by this Thursday 9/21/23. Shirts are $9.00 and donations are also being taken to assist students who cannot pay for a t-shirt. See Mrs. Bentley-Dalton to purchase.
Class Officers elected September 15, 2023
Congratulations Wildcats!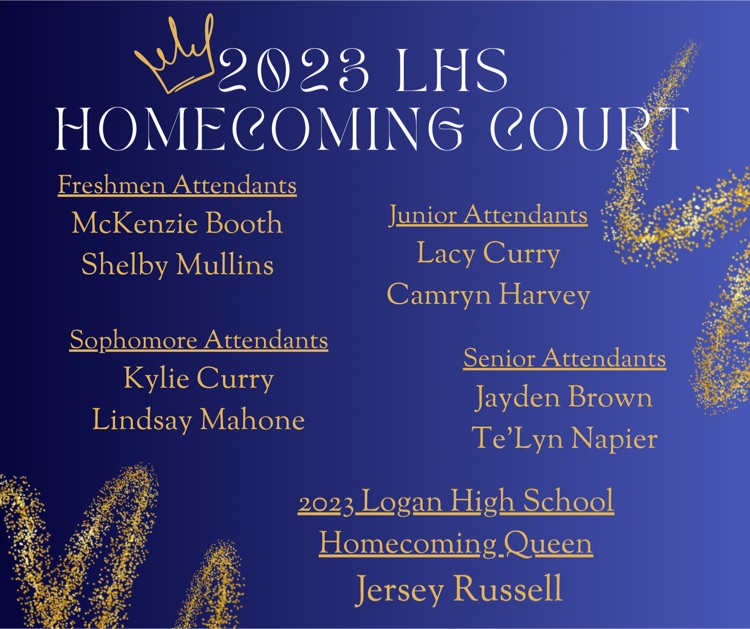 2 Hour Delay Schedule for students on Wednesday, September 20, 2023 Staff will report at the normal time. Staff will use this time to work with student data. Students will arrive at school at 9:05 AM Buses will be running according to this schedule. School will release at the normal time of 2:45 PM
KEY MITIGATIONS FOR SCHOOLS (including extracurricular activities) These practices are important to not only guard against COVID-19, but also the spread of other infections such as the flu and the common cold. The most effective mitigation strategy is the vaccination for those eligible to receive it. Cleaning and disinfecting Hand hygiene and coughing/ sneezing etiquette Monitor school positivity rates When student or staff tests positive for COVID-19: » Students and staff who test positive for COVID-19, should stay home for at least 5 days and isolate from others. » Students are not allowed to participate in extracurricular activities while in isolation and potentially infectious. » Day 0 is the first day of symptoms or day tested if asymptomatic. » Students and staff may return to school if they: › Stayed home and isolated for at least 5 full days › Are fever free for 24 hours (without the use of fever reducing medications) › Have symptoms that are improving » It is recommenderd that a mask be worn days 6-10. » Individuals who were severely ill or immunocompromised should stay home and isolate for 10 days.
Class Officer Applications – pick up in Mrs. Adkins' office. Must be returned to Mrs. Adkins no later than Friday, September 8 by 8:00 am. Homecoming Court Applications – pick up in Mrs. Adkins' office. Must be returned to Mrs. Adkins no later than Friday, September 8 by 8:00 am. CAMPAIGNING FOR CLASS OFFICERS AND HOMECOMING COURT BEGINS MONDAY, SEPTEMBER 11, 2023. ONLY 4 POSTERS PER CANDIDATE. POSTERS MAY BE HUNG INSIDE THE SCHOOL ONLY. POSTERS MAY ONLY BE HUNG BEFORE SCHOOL (7:00AM-7:20AM), LUNCH OR AFTER SCHOOL (2:45PM). DO NOT GET OUT OF CLASS OR HANG POSTERS BETWEEN CLASSES. EACH PERSON, NOT EACH POSITION, IS ALLOWED NO MORE THAN 4 POSTERS. ONLY 2 POSTERS PER FLOOR ARE ALLOWED AND ONLY 1 POSTER IS PERMITTED ON A STAIRWAY. *IF YOU ARE RUNNING FOR A CLASS OFFICER POSITION AND FOR HOMECOMING COURT, YOU ARE ONLY ALLOWED 4 POSTERS* FLYERS ARE ALLOWED IN CLASSROOMS ONLY WITH TEACHER'S PERMISSION. NOTHING IS TO BE PLACE ON LOCKERS; ON THE GLASS IN WINDOWS, CLASSROOM OR FIRE DOORS; OR ON THE PAINTED AREAS OF THE HALLWAYS. NO BANNERS ARE ALLOWED ANYWHERE IN THE BUILDING OR ON THE ISLAND. DO NOT PUT FLYERS, PAINT OR ANYTHING ELSE ON YOUR OWN OR ANOTHERS PERSONS VEHICLE. CANDIDATES MAY NOT DISTRIBUTE CANDY, BUTTONS, STICKERS, ETC. DURING THE CAMPAIGN OR PUT ON CAMPAIGN POSTERS. NO NEGATIVE CAMPAIGNING ALLOWED. EVER!!!!
Homecoming Week: September 25 through September 30, 2023 Homecoming Week Dress: ​Monday – Merica Monday – sport your flag and red, white and blue ​Tuesday – Throwback Tuesday – dress for your favorite past decade (60's, 70's, 80's, 90's, etc.) ​Wednesday – Celebrity/Super Hero Wednesday ​Thursday – Class Colors Thursday (Battle of the Classes) ​​Freshmen – white ​​Sophomores – gold ​​Juniors – blue ​​Seniors – black ​Friday – Jersey/School Spirit Friday – Wear your blue & gold
The Logan High School Homecoming Parade will be held on Friday, September 29th. The Logan Wildcats will play the Clay County Panthers in the annual football game beginning at 7:30 P.M. on Midelburg Island at the Willis-Nesbit Stadium. The homecoming parade will take place at 1:00 P.M.; with the lineup beginning at 12:00 P.M. The parade will proceed off the Island and proceed up Main Street, Holland Lane and then it will turn down Stratton Street and back to the Island. Floats can be parked on the track at the football field for public viewing after the parade and at the football game. Parade entry forms must be filled out and turned in to Brittany Adkins, Family Engagement specialist at Logan High by Tuesday, September 26th, at 10:00 A.M. There is no entry fee to enter the parade. All community organizations, clubs, churches, area schools, and businesses are encouraged to participate. Be sure to wear gold and blue on Friday, September 29th, in support of the Logan Wildcats.
ATTENTION!!! Coach Williamson is creating a Directory for the Logan Boys Basketball Program. If you are a Former Player, Coach, or Manager Please Scan the QR Code! Coach Williamson will be in Contact with Everyone Soon! #TheWildcatWay #GetOnTheTrain
Livegrades has a new website address for parents and students the website is:
https://livegrades.k12.wv.us/
Your previous username and password still work.
We are asking parents / guardians to support Logan County Schools in stopping this dangerous and unhealthy habit with our youth. Have the conversation with your child, it is never too early. Stop Vaping ! It is often very hard to determine which items are a vape !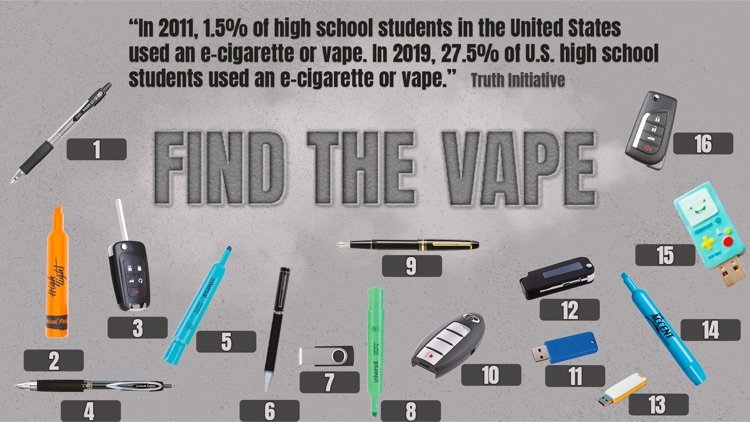 Benchmark Testing requires a charged Chromebook or Device. Get in the habit now of charging your device every night. LHS 1st Benchmark testing date is, Monday August 28! ECA will Benchmark Test on Friday, September 1 at SWVCTC.
LOGAN HIGH ECA: You will receive your orientation for SWVCTC on Wednesday August 23. You do not need to go to SWVCTC. Parents are welcome on Wednesday August 23! All ECA Students report to LHS every morning as normal school days. Buses will transport students to and from ECA on a regular schedule.